The Conservator: More from Whitman's Great Background Man
Gary Schmidgall, Hunter College, The City University of New York
A generous anthology of the Whitmaniana in The Conservator, edited by Schmidgall, will appear in fall 2005 as part of the Whitman Series at the University of Iowa Press.
In February 1911, Horace Logo Traubel published a review of a new book by Joseph Fort Newton titled Lincoln and Herndon.  William Henry Herndon (1818-1891), it will be recalled, was Lincoln's early friend, his law partner in Springfield, the manager of his campaign against Stephen Douglas, and, much later, the author, with Jesse Weik, of a three-volume biography, Herndon's Lincoln: The True Story of a Great Life, which appeared in 1889.  Herndon's strong emphasis on Lincoln's personal life proved highly controversial, humanizing Lincoln and subverting, as it did, his already-mythic stature.
The new book evoked an extraordinary paean to Herndon, in which Traubel played with the notion that "No man stands alone.  Every man has his setting.  The race is back of him....[N]obody is self made.  There are curious hands, mysterious souls, pushing him on, steadying him to his course."  Further on, Traubel observes, "There are background men and foreground men.  There is a root to everything somewhere.  Who can say one sort of man is greater than another where both are equally necessary?  The trouble with the common judgment is that it too often forgets the background men.  It sees only the men out in the light."  And so Traubel praises Herndon: "Herndon was part of Lincoln's sky.  The background people are often the best.  Often the most devoted.  Often the surest.  They are more inevitably on the spot in pinches.  They give up everything for what the world calls nothing."  The irony of these admiring words, of course, is that they apply perfectly to the superbly foregrounded Whitman and the happily backgrounded Traubel.  What Traubel says of Herndon— "He was always back of Lincoln.  Always at his side.  Always in his heart."—exactly captures the essence of his own relationship with Walt. 
Traubel makes clear he is alive to the parallels: "Herndon wrote about Lincoln.  He wrote the truth.  He did for Lincoln what Walt Whitman alive told me to do about Walt Whitman.  He included all the hells and damns.  Then the worshipers got busy.  They said Herndon lied.  They said he betrayed his friend.  They said he was jealous.  O God!  He loved Lincoln.  Because he loved Lincoln he wrote the truth about Lincoln.... We now see Herndon was justified.  How the resenters have disappeared.  How Herndon has remained."
And how Horace Traubel remained—this most devotedly industrious of Whitman's background men during his last years alive and during the first generation after his death!   In his review, Traubel acknowledged William O'Connor as the Herndon of Whitman's career: "In his later days Walt Whitman was always saying to me: 'Leaves of Grass as it is would never have existed but for William O'Connor.'  I think Lincoln must be saying from the shades. . .: 'The Emancipation Proclamation as it is would never have existed but for William Herndon.'"  But with the death of O'Connor in 1889, one finds it very easy to assert that the mantle of chief background man for Whitman fell by rights to Traubel.  It was just the year before that the furious note-taking began which would produce his well-known With Walt Whitman in Camden (1906-1996), the most massive oral history project in American letters.  (Highlights from its nine volumes were gathered by the present writer in Intimate with Walt: Selections from Whitman's Conversations with Horace Traubel 1888-1892, published in 2001 as the inaugural volume in the University of Iowa Press Whitman Series.)  Also well known are the Whitman publishing projects supervised by Traubel as one of the poet's three literary executors, Thomas Harned and Dr. Richard Maurice Bucke being the others. 
Not so familiar to Whitman lovers, aficionados, and scholars, however, is another venue through which Traubel worked tirelessly to assure that the Whitman legacy would remain before the eyes of posterity: a monthly magazine, The Conservator, which he founded in 1890—its first issues were eagerly and pleasurably devoured by Whitman—and edited for the next thirty years.  It was in issue #12 of the 21st volume that the review of Lincoln and Herndon appeared (pp. 186-7. Note: all subsequent citations will give first the number of the volume, then the page number).  The Conservator was decidedly a one-man show, or rather, one-family show: Traubel's wife Anne Montgomerie became its associate editor, and his daughter Gertrude later appeared on the masthead as "associate worker."  Given how much of the contents were penned by "H.T." or "T.", it is all too perfect timing that The Conservator—and Traubel—lasted just long enough to celebrate the 1919 Whitman centennial.  Just months later, Traubel died, and The Conservator was no more.
 As the editor explained in his front-page "Greeting" for the first issue, The Conservator originated in the desire that Philadelphia's Ethical Culture and liberal societies might get "to know more of the intimate social and spiritual life of each other" (1:1).  Its instincts, which of course were thoroughly and completely Traubel's, were socialist, reformist, pro-union, pro-equal rights for women, pro-union, and anti-monopolistic/anti-capitalist.  Its tastes in the arts were decidedly avantgarde; its idols were the likes of Tolstoy, Hugo, Maeterlinck, Shaw, Wagner, Ibsen, and Rodin.
For the first three years The Conservator was just eight pages and sold for five cents (fifty cents a year).  From 1893 until the end, it was sixteen pages, three of which in later years were given over to advertisements.
Though the pages of The Conservator addressed the widest range of political, economic, social, and cultural issues—if it resembles any current periodical, one would point, I think, to The New Republic—the spirit of Walt Whitman presides over all.  Indeed, from March 1893 to the end, just under the front-page title, were to be found these words from Democratic Vistas: "Moral conscientiousness, crystalline, without flaw, not godlike only, entirely human, awes and enchants forever."
Not only did The Conservator address the new and abiding problems of "These States" and, increasingly, the world with palpably Whitmanesque instincts.  The journal also printed a remarkable trove of articles, reviews, essays, notices, filler items, and advertising that was specifically about Walt Whitman.  Sensing that The Conservator might shed considerable light on the reception of Whitman in the first generation following his death, I have recently had the good fortune to spend part of the last three summers reading through a complete and pristine run of all 352 issues, which is in the collection of the Huntington Library in San Marino, California.  This run, which I have reason to believe came originally from Traubel's editorial office at 1631 Chestnut Street in Philadelphia, has rested in the Huntington for about fifty years, and I am particularly eager to communicate my findings preliminarily because this run had never been read before: the pages of nearly every issue were uncut.
I am currently in the process of preparing an overview and analysis of the extensive Whitmaniana in The Conservator.  This comes in several forms.  Most important by far are the approximately 150 articles on Whitman topics.  These articles are mostly between 1,250 and 2,500 words but occasionally as much as 5,000 or 6,000 words (many of them appeared in from two to several monthly installments).  Here is a brief sampling of the topics one encounters: "Dutch Traits of Walt Whitman," "Whitman's Sexual Imagery," "Whitman and Tolstoy," "Whitman's Self-Reliance," "Whitman's Lack of Humor," "Walt Whitman in Germany," "Whitman and Physique," "What Walt Whitman Means to the Negro," "Whitman's First Free Verse," "Whitman's Significance as a Revolutionist," and "Whitman and Socialism." 
Another regular Whitman component was reviews and notices about editions of Whitman, books on him, and articles in other periodicals and newspapers concerning the poet.  Sometimes a long book controversy would wind through several issues, as with Bliss Perry's Walt Whitman: His Life and Work (1906), which was deeply despised by Traubel and other Whitman partisans.  There was usually a substantial eruption of Whitman items in the issue following the annual Whitman birthday celebrations on May 31, and throughout the year reports would be printed of events at Whitman Fellowship meetings in Philadelphia, New York, Boston, and elsewhere.  For about five years, from 1897 to 1902, there were forty-five regular installments of a feature called "Recent Study and Criticism of Whitman." 
Many items in The Conservator were either authored by or were about such prominent members of the Whitman inner circle as Dr. Bucke, Harned, John Burroughs, John Clifford, William Sloane Kennedy, J. W. Wallace, and Francis Howard Williams.  Occasionally, as well, the three literary executors pulled some manuscript item out the hoard and published it.  Extracts from Whitman's writings pop up now and again, as do miscellaneous fillers with some odd Whitman angle.  Especially droll and amusing are the highly incensed attacks on Whitman (and on Traubel and The Conservator) that the editor did not shrink from putting into the mix: when it came to criticism, Traubel's skin was just as thick as Whitman's.  Even the Whitman-related advertisements, which latterly took up a full page or more, are a source of continuing interest.
It is impossible, of course, to do justice in this little introduction to the panoramic Whitman materials in The Conservator.   This will take much more time and space elsewhere.  Still, it was impossible to resist the request of Tyler Hoffman that I gather for readers of The Mickle Street Review a very small—but, I hope, flavorful—sampling of some of my favorite trouvailles.  They follow here, with my short introductory comments.  The date of the issue is followed, in parentheses, by its volume number, then the page on which an item commences.
In the November 1916 Conservator, Traubel published some "Passages (not necessarily connected) from one chapter of a forthcoming book on H.T." (27:118).  The reference is to David Karsner's biography, which would appear three years later.  The most amusing passage in this article is a description of Traubel's two-room editorial office on Chestnut Street: "There are huge, dust-covered piles and boxes of back numbers of his publication, while stacks of faded newspapers and magazines, together with a rather confused accumulation of printed matter are strewn over the floor."  Shades of the paper maelstrom at Mickle Street!  "Fastidious women especially are horrified at the apparent chaos of Traubel's quarters," Karsner reports.
I draw attention to this item, however, for a more personal reason.  In the course of my research on Whitman and Traubel, I came upon the charming fact that David Karsner was such an enthusiastic admirer of Walt that he and his wife named a daughter Walta Whitman Karsner.  Early in 2000, through serendipitous email communication with an admirer of my books on Whitman, I learned that Walta Whitman Karsner Ross was in fact still living—with her husband in a care facility in Oakland, California.  Recalling from the poem "As I sit at Karsners' front window" that Traubel was a presence in the family, I decided to pay Walta a visit in hopes of garnering at least a child's recollection of Traubel (but mainly, in truth, simply to make a tenuous connection with the man, the last of Traubel's family, his daughter Gertrude, having died in 1983).  On August 15 of 2000, the visit took place.   A witty and ebullient woman, Walta's memory and mental condition were, alas, not up to the specific questions I came armed with.  My camera was more successful.  A short time later, on November 8, I received an email from my go-between friend informing me that Walta had died the previous day.
This last summer of 2003, I was nearing the end of my perusal of the Conservator run and came upon the Karsner excerpt.  You can imagine the lump that formed in my throat when I read the following passage (27:119):
Traubel writes each day a score of letters by his own hand.

 

A friend in distress will receive a line or two of cheer.

 

Like a faithful doctor watching over his patients, Traubel sends these daily missives out from his heart to people he is acquainted with and to people he has never seen.

 

Little children who do not yet know the alphabet receive his notes of endearment and picture postal cards.

 

Here is what he wrote on his birthday to our little baby girl, Walta Whitman, who was then barely a month old:
New York, December 19, 1914
Dear Walta, old lady:
    I'm fifty-six years young today.  And you're no years old
today.  Across all discrepancies of age and experience I pass
myself to you and you pass yourself to me.  Who can penetrate
the mystery which has brought you here for me or kept me
here for you?
Horace Traubel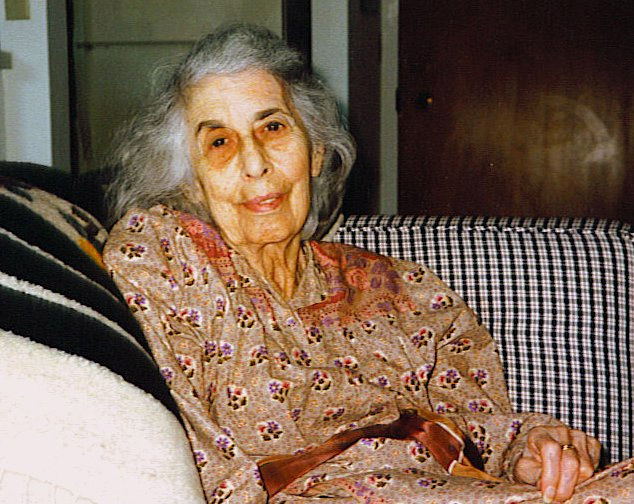 Walta Whitman Karsner Ross, August 15, 2000