About this Project
The Crossing Brooklyn Ferry Online Critical Edition is a new approach to interacting with literature online. As we continue to imagine ways to make the study of literature more meaningful in this multi-media age, as we try to make the past come to life in our present, it is necessary to look at how the new tools we have at our disposal can help us accomplish this objective. This project is an effort to show how we can build from the wealth of resources and databases currently available to us online, and pay tribute to the digital Whitman scholars whose efforts have laid the important groundwork for online projects. It is hoped that this website represents another step in the evolution of online scholarship and helps to inspire future works.
Many thanks to Talia Schaffer who supported this project in its early stages and encouraged my desire to do something different. Also to Tyler Hoffman for his support in my first venture into online Whitman scholarship. Finally, a special thanks to Karen Karbiener, who constantly reminds me of the joy of being a Whitmaniac.
This project was created by Jesse Merandy, the managing editor and designer for the Mickle Street Review and a Ph.D. student at CUNY's Graduate Center.
All attempts have been made to properly tribute all works and images used in this project. Please send all comments, suggestions and complaints to jmerandy@gc.cuny.edu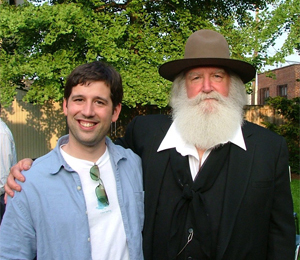 Jesse and Walt Whitman at his home in Camden